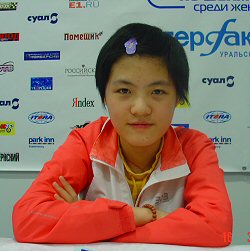 The rising star on the chess sky Hou Yifan is a real discovery of the Championship. She has recently celebrated her 12th birthday and in the nearest future we can probably expect the emergence of a new name in the top list of women chess players. It's noticeable that young Hou absorbed the best traditions of Chinese communication culture and she managed to prove this fact at the press-conference, which is laconic as well as informative.

- Where are you from? Who was your first coach?
YH: I was born in the Chinese town Jiangsu, but now I live with my mother in Beijing- the seat of the National Chess Centre with a boarding school for young talented players from all over the country. My coach is GM Ye.

-When did you take up chess?
YH: I started playing chess at 6 then took part in the tournament for applicants to entering the above-mentioned centre. I underwent all the necessary tests and now I keep studying there.

-How can you characterize your opponents?
YH: In round 1 I played against Nadezhda Kosintseva. I have never met her before but I like her sister's Tatiana playing. I think she is a strong and stable player. My second opponent was Natalia Zhukova. I don't know much of her as well but during the game she performed as a very attentive and serious rival. Natalia is a highly- ranked player. I am satisfied with our meeting. I was very well pleased to play with such a strong opponent. As far as I know, she has got an offer to play in the Chinese Team Championship. I departed from this Championship after round 3 where I met Nino Khurtsidze of Georgia remarkable with a very sharp attacking playing.

- What are your future plans? Is chess your main occupation?
YH: Yes, I am going to become a chess professional. You should take up only chess to reach such a level. And I am ready to do this.

- What kind of level do you mean? What do you want to achieve?
YH: Let's say, to have 2600 ELO rating.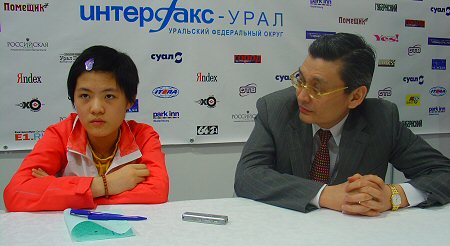 -Why don't you reach 2700 as Judit Polgar?
YH: Because I am realistic at estimating my opportunities. I don't have my head in the clouds.

-Is it possible that such a realistic a serious girl doesn't have a dream?
YH: Oh yes, I do. I want to win Judit Polgar (laughing). And to buy a house in Paris. It is my favorite place in Europe.

- Please describe a typical day of Yifan Hou.
YH: I spend all day at school. We get up early in the morning, do exercises then we have classes. Just after classes we train up to the very evening. With my preparation for the Championship I had to train chess in the morning instead of school subjects.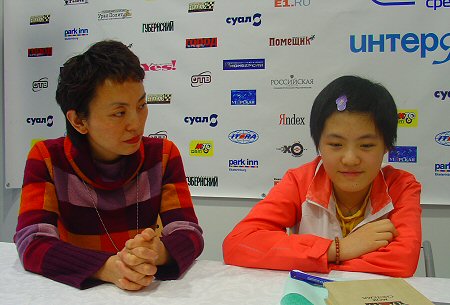 - How do you spend your free time? What is your hobby?
YH: I enjoy reading. But I lack of time for it.

-And what books do you prefer?
YH: Novels.

- What are your nearest career plans?
YH: As for the Olympiad in Torino, they haven't confirmed the list of the participants yet. The Chinese Chess Association will do it right after this Championship. Of course I hope to be enlisted.

- Do you have an idol in chess?
YH: I have none among women players. I like many of them but nobody in particular. And Robert Fischer is my favorite men chess player.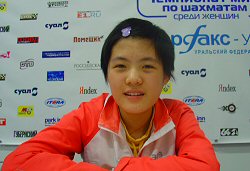 -Who would you like to play with in the future?
YH: I prefer strong opponents. I'd like to play with Judit Polgar, Garry Kasparov and a famous Ukrainian chess player Sergey Karyakin.

-What was the most impressive for you in Russia?
YH: I liked snow most of all. There is so much of it, and it's so beautiful. On our day off we had an excursion about the city which was very interesting. We visited many historical places but the Temple on Blood impressed me most of all with its magnificence and beauty.