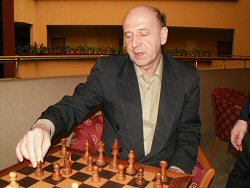 Alexander Philipenko, the coach of the finalist and the main hope of Russian fans Alisa Galliamova is the guest of our press centre. While fight being in full swing Alexander Vasilyevich was very kind to answer the questions of our journalist:

- Alexander Vasilyevich, what do you think of the Championship's organization?
AF: The organizers have done a good job. The organization of the tournament meets all the requirements which are very high.

- Do you have any other students who managed to achieve such progress?
AF: Yes, I do. GM Alexey Dreev and Alisa are my main heroes. Alexey has just taken part in the World Cup in Khanty-Mansiysk which was a brilliantly organized event as well.

- How long have you been training Galliamova?
AF: Alisa was 10 when first visited Chess School near Moscow, where I worked as a coach. So I've been her coach for twenty years now.

- What are her character features?
AF: She possesses a very strong will, unfeminine tenacity and extraordinary persistence. The first game of the final match is the best proof of it. Alisa is never satisfied with a draw; the victory is the only possible decision for her. Despite any threats she shows the fight even at men tournaments. She even managed to defeat such opponents as Alexander Morozevich, Sergey Tiviakov. She is a real fighter. Her style is not a feminine one. She performs men chess rather than women one.

- When did she start to perform such a progress?
AF: You know, she displayed not so much progress but tenacity which is so rare among girls. She has certainly a natural talent - persistence and resistance. It was so amazing that a 10-year old girl possessed such qualities.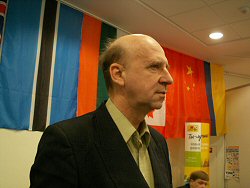 -What are you going to do after the Championship?
AF: We can't take part in all the tournaments because of tough schedule. For instance, we won't participate in the forthcoming European Championship. There is no sense to do it right after this tournament especially after Alisa's brilliant performance. But we are likely to take part in the Olympiad in Torino, Italy.

- Are you pleased with the results of this Championship?
AF: I think so. Alisa is a finalist of the World Championship. And it's a great success.