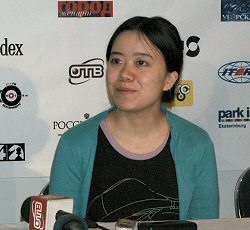 I want to thank the organizers of the Championship, journalists and all my fans for great support. I am very glad and proud that I've become a Champion representing China.

Despite the fact that I outplayed Galliamova I think that Russian players are very strong and a tough and interesting fight is still ahead.

And of course I am very grateful to my coaches who assisted me here.

Xu Yuhua ,
Women's World Chess Champion 2006

- What awards do you expect to get on your coming back to China?
XY: I haven't thought about it so far. It's just a great pleasure to come back home with a new title. I am sure to be well received because so many people supported me.

What other achievements of such a level do you have?
XY: I won the World Cup in 2000 and 2002 and I am a three time Olympic Champion 2000, 2002 and 2004 as a member of our National Team.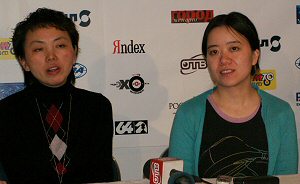 What is the World Champion Xu Yuhua going to do tonight?
XY: We'll certainly celebrate my victory with our Chinese delegation.

How can you characterize your main opponent?
XY: Alisa is a very strong opponent and I really think that I was just lucky to win 2 games of 3.

Aren't you going to study Russian?
XY: I think it's quite useful for a chess player to learn the language of this country and I am likely to study it in the future.

Are you going to take part in the forthcoming "North Urals Cup"?
XY: Today I've decided to give to the public the fact of my expecting a baby. I am going to deliver in September and all my nearest plans are closely connected with this event.

You performed brilliantly at the Championship. How did you manage to do it?
XY: In fact I was in a perfect condition? Moreover , I think my baby was the one to help me.