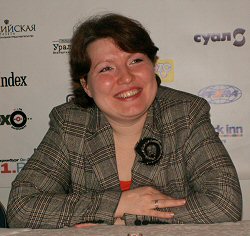 After the second game of the final match Alisa Galliamova took part in a long-waited press conference:

Alisa, what do you think of your performance at the tournament?
AG: Up to the finals I performed better. But now I am not that successful as you see.

- How did you prepare for the tournament?
AG: To tell the truth, I didn't have enough time to prepare for the tournament. I hadn't trained chess for 5 months. I wasn't sure whether I'd go to the championship or not. But I've had a very high rating during last 2 years that's why I was enlisted. I was informed about it very late, in February, and since then I started preparation. In fact, I had only three weeks.

- You play knock-outs not for the first time. Are there any differences and surprises for you at this tournament?
AG: I can't say that anything surprised me but the system itself is really tough. Many incidents may happen. I am really surprised to have reached the finals. But I am glad. Anyway, even the results of first rounds turned out very surprising for such strong players as Koneru, Stefanova were eliminated.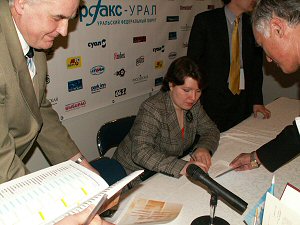 - Yes, but Xu, Galliamova, Chmilite, Matveeva kept on playing…
AG: Yes, I managed to do it this time but at other tournaments I was knocked out as well. The previous system appeals to me most. At first we have interzonal and challengers tournaments and only then the final match.

- Your performance on the Urals land is usually quite successful if judging by the tournament in Krasnoturyinsk…
AG: Maybe the reason is that I am very well received here. I like tournaments in Krasnoturyinsk and I hope such contests will be held in Ekaterinburg as well.

- How can you characterize your opponent?
AG: It is difficult to characterize a player and especially a person judging by one game. I am sure she is very strong. She managed to reach the finals and this shows her self-restraint and good preparation.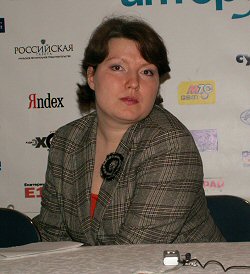 - How do you feel after such tense fighting?
AG: I am tired. But I am glad that despite many difficulties I came into the finals.